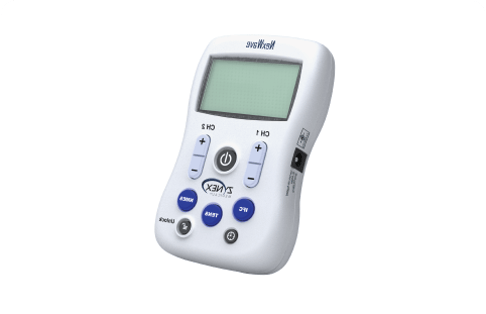 Dr. Lynn Voss is sponsoring a free demo day for any BoulderCentre for Orthopedics & Spine patient that is interested in learning more about e-stim.
Dr. Voss regularly recommends e-stim therapy as a drug-free, low-risk, non-invasive treatment for his patients managing pain or that require muscle activation or education. Dr. Voss himself uses and recommends the Zynex NexWave device, which is only available with a prescription because it incorporates all three modalities of e-stim such as IFC, NMES, and Tens.
"The Zynex NexWave is so much more than just an over-the-counter Tens device. I love the IFC feature as it provides a high level of performance with regards to pain management that is non-invasive and has little to no side effects for patients." Dr. Voss says. "I also love that Zynex is also a local Colorado company that has been in business since 1996.
Event Details
Each treatment will be 30 minutes.
Your local Zynex NexWave territory manager, Nicole Coffield, will conduct the treatment. Nicole will be available during the demo day and afterward to answer your questions about this technology.
Date: Thursday, March 30th
Time: 8:00 a.m. – 4:00 p.m.
Where: 1000 W. South Boulder Road, Suite, 218, Lafayette, CO 80026
Additional Details:

An appointment is required and is first-come, first-served. Slots are open to all patients of BoulderCentre for Orthopedics & Spine. Please call 720.309.2939 to schedule your appointment.
The NexWave shall not be used on patients with cardiac conditions that require a pacemaker. Cardiologist approval is required.
Learn More about Pain & E-Stim Therapy:
The number one reason why patients come to see doctors is due to chronic pain, so much so that in 2019 National Center for Health Statistics of the Centers for Disease Control and Prevention (CDC) updated their questions relating to pain. They estimate that 1 in 5 Americans suffer chronic pain.
The impact of pain both chronic and acute is enormous in people's life. Chronic pain is associated with reduced quality of life, increased medical expenses, and significant economic costs. The most common locations for pain are the back, hip, knee, and foot. The most commonly used management strategies for chronic pain are medication and physical therapy, however, e-stim is slowly forging its way as the new easy mainstream, effective as well as a cost-effective way to treat pain.
"The reason I love e-stim is that it can address all areas of pain, from the back and knee to headaches with little to no side effects. It helps restore a patient's quality of life," says Dr. Voss. "I haven't found a patient yet that hasn't benefitted from using a NexWave device."
SO WHAT IS IFC, TENS, and NMES?
The NexWave incorporates IFC, TENS, and NMES in one easy-to-use device.
Interferential Current Therapy (IFC)


Interferential current therapy (IFC) sends a small amount of electrical stimulation to damaged tissues in the body. The electrical frequencies are proven to stimulate endorphins, which are the body's natural painkillers. IFC can boost the body's natural process for responding to pain, increasing blood flow, and producing hormones that promote healing. This form of therapy is also extremely useful in reducing pain and inflammation and curing enema and spasms.
IFC Is 40 times stronger and more effective than the average TENS unit.

Transcutaneous Electrical Nerve Stimulation (TENS)


A transcutaneous electrical nerve stimulator (TENS) sends low electrical pulses through the skin to start your body's painkillers. These electrical impulses flood the nervous system, reducing its ability to transmit pain signals to the spinal cord and brain.

Neuromuscular Electrical Stimulation (NMES)


Neuromuscular Electrical Stimulation (NMES) sends low-frequency electrical current to nerves to excite and innervate the desired muscles, causing contractions, it blocks pathways and reduces swelling and edema. NMES helps strengthen muscles in a different way than active muscle movements. This means patients, even immobile ones, can retain, restore, and strengthen muscles.
In Summary:
Electrotherapy is a safe way to treat acute and chronic pain
Compared to other pain management therapies, electrotherapy can:

Provide safe and effective pain control between visits with your healthcare provider
Be used at home and on the go
Decrease pain in all areas
Increase daily activity and mobility
Improve muscle function and improve circulation

IFC helps provide extended pain relief
TENS is used to control breakthrough pain
NMES helps with muscle spasms and strengthening weak or atrophied muscles
Are You a Candidate for Electrical Stimulation Therapy?

Zynex NexWave is classified as a Class Two medical device, which requires a prescription. This stimulator shall not be used on patients with cardiac conditions that require a pacemaker. Cardiologist approval is required.
The therapy can be used to treat various orthopedic conditions such as:
IFC/TENS Modality

Chronic & acute pain conditions
Post-surgery pain
Fractures
Sprains
Sciatica
Low back pain
Herniated discs
Degenerative disc disease
Spondylosis
Sports injuries
Meniscus tears
Arthritis
Neuropathy
Spinal stenosis

NMES

Post ACL & MCL reconstruction
Patellofemoral pain syndrome
Osteoarthritis
Hemiplegic shoulder subluxation
Muscle atrophy
Flexion and extension
Ankle dorsiflexion
Post-operative femoral lengthening
Edema reduction
Pre- and post-surgical care joint replacement
How Do I Get a NexWave Device?
The Zynex NexWave is classified as a Class Two medical device, which is a device that must be prescribed by a provider. Once a device is prescribed by a provider and Zynex receives a faxed prescription, the Zynex patients' support team will reach out to the patient to verify details. NexWave devices will be received within 1 – 5 business days after patients confirm the device.
What is the Cost?
Zynex works with all insurance companies. If patients are paying out of pocket, the cost is less than $1 a day!
Patients can discuss their options when contacted by Zynex customer service.
References
Robert Jason Yong, Peter M. Mullins, Neil Bhattacharyya. The prevalence of chronic pain among adults in the United States. Pain, 2021; Publish Ahead of Print
Journals.lww.com/pain/
DOI: 10.1097/j.pain.0000000000002291
https://journals.lww.com/pain/Abstract/9000/Prevalence_of_chronic_pain_among_adults_in_the.98045.aspx