Dr. Trujillo Hand Surgery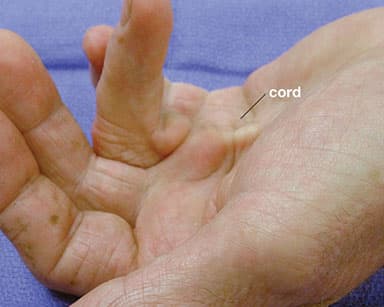 Dr. Nelson Trujillo is well known to Boulder as an excellent cardiologist, wonderful person, and a community leader.
When Dr. Trujillo's hand started forming Dupuytren's cords and affecting his ability to straighten his fingers, he had a very serious decision to make. As an interventional cardiologist at Boulder Community Health's Boulder Heart, he needed to decide if he should undergo surgery or let the genetic disease progress and affect his hand and potentially limit his lifelong passion?
Dr. Trujillo consulted with Dr. David Conyers, and they decided that surgery was the best option to ensure that Dr. Trujillo had the optimum outcome for his hand and was able to return to the cardiac cath lab.
After hand surgery and some hand therapy appointments, Dr. Trujillo is back to full duty in the cath lab.
These pictures are of him after surgery and with his hand flat on a rock while vacationing in beautiful Italy. We have also included a photo of what a typical person's hand looks like with a Dupuytren's contracture prior to surgery. BoulderCentre for Orthopedics & Spine is proud to have helped Dr. Trujillo continue his excellent patient care.