Clinical Results of Hybrid Resurfacing from March 1994 to December 1999
Three consultants - Ronan Treacy F.R.C.S., Eric Isbister F.R.C.S., Derek McMinn F.R.C.S. and 11 trainees have performed 1720 Hybrid hip resurfacings.
406 - HA on smooth
1314 - HA on Porocast™
In this patient group there have been 17 failures:
6 Infections
4 Fractured neck of femur
3 Cup breakouts
1 Femoral loosening
1 AVN
1 Collapsed femoral head from extensive AVN
1 Fractured acetabulum.
In the five patients with infection, one had previous surgery and previous hip infection and one patient was diabetic.
In the four patients with fractured neck of femur, two were over the age of 70 years and had marked osteoporosis. Now, both these patients would be regarded as contra-indications both on account of age and osteoporosis.
In the two younger patients, one had generalized DEXA scan proven osteoporosis and one had renal osteodystrophy from renal failure, avascular necrosis and was on steroids for SLE. All the fractured neck of femurs occurred within the first three post-operative months. There have been no long term fractured necks of femur including our pilot series extending back nine years eight months.
The three cup breakouts were all early complications. Two patients had previous Chiari osteotomies and one patient had acetabular dysplasia. All of these cups were inserted prior to the development of the dysplasia cup which allows supplementary screw fixation and bone grafting of the acetabular deficiency. There was one revision in the series for avascular necrosis of the femoral head.
In the one patient who sustained a fractured acetabulum at the primary surgery, the bone was of very poor quality because of renal failure, a renal transplant and renal osteodystrophy. Fifteen out of the seventeen failures presented within the first post-operative year.
This work was carried out by Dr. Christian DeCock, M.D, Fellow in Joint Replacement Surgery:

In the first 100 Hybrid hip resurfacings the demographics are as shown: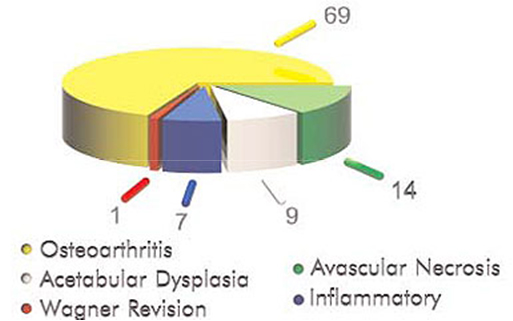 The presenting pathology in these 100 hips is as shown. The average age in this group was: 48.3 years (18 - 74 yrs). Mean follow-up: 59 months (52 - 68 mths)
Out of the first 100 Hybrid resurfacings there have been two failures: one infection and one femoral head collapse in a patient with extensive previous idiopathic AVN.
There were two deaths from unrelated causes, one at 4 yrs 9 months post-operative from septicaemia following chemotherapy for breast carcinoma and one at 4 yrs 6 months from a cerebro-vascular accident.
There were no cases of acetabular loosening as judged by progressive radiolucent lines, change in position of component or obvious migration. There were no cases of femoral loosening as judged by change in position or obvious migration.
There were however enormous problems with the peripherally expanded HA on smooth Hybrid cup in use at that time. The peripheral expansion meant that in many cases the acetabular component did not reach the prepared acetabular floor. As can be seen poor acetabular component seating gave poor post-operative appearances on x-ray.
In these first 100 hips, 48 components were not fully seated. As can be seen, that incomplete seating varied from 0.5mm to 10mm.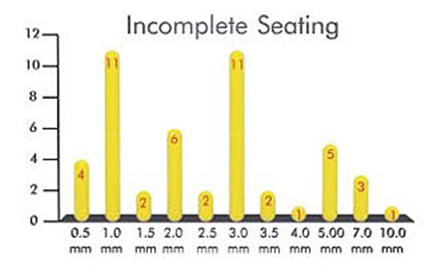 On post-operative X-ray, only 13 cases with no radiolucency were seen but happily by three plus years most of the gaps had filled in and 74 hips had no radiolucency at the cup bone interface.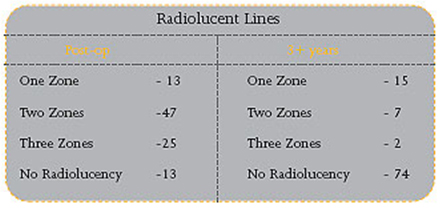 This poor intra-operative seating of the acetabular component has been solved with the Birmingham Hip Resurfacing which is a spherical component and like many other uncemented total hip replacement cups, employs 2mm of under reaming. It is then straight forward to get full seating of the acetabular component in the prepared bony bed.
80 hips were classified as Charnley category A or B and these patients had no built-in restraint from other conditions to their activity level. In these 80 hips the pain, walking and movement scores are extremely good.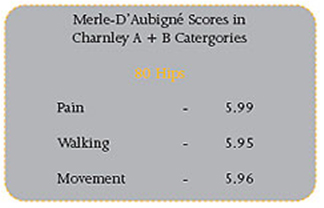 Heterotopic ossification was not a problem and no patient has hip stiffness as a result of heterotopic ossification.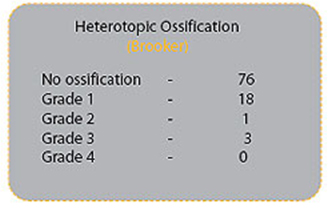 At this time all patients were given prophylactic Indomethacin in the five post-operative days. Shown are the results of Mr. McMinn's hip resurfacing patients treated between March 1994 and September 2000.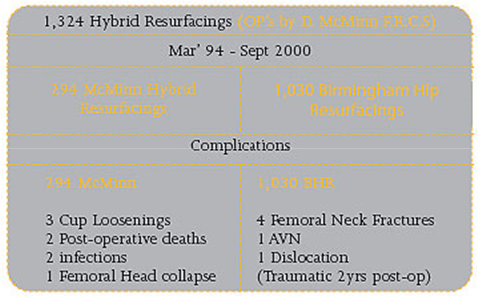 Wagner resurfacings have been carried by out by surgeons in Binningham since the 1970's through to the 1980's. This gave us the opportunity of comparing the Wagner Resurfacing to the Hybrid Metal on Metal resurfacing designs. Shown below is the cumulative survival rate of both the McMinn Hybrid Metal on Metal Resurfacing and the Metal on Metal Binningham Hip Resurfacing compared to both the Metal on Polyethylene & Ceramic on Polyethylene Wagner implants.
This work was carried out by Dr. Paul Pynsent, PhD, Director of Research at the Royal Orthopaedic Hospital, Birmingham.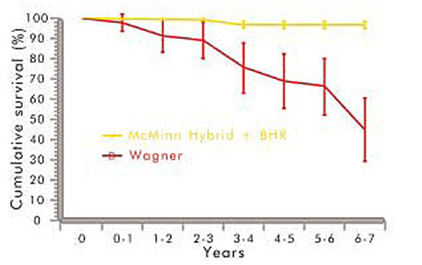 Length of In-Patient Hospital Stay
At the Royal Orthopaedic Hospital NHS Trust, Birmingham, the average length of stay data was analyzed from April 1999 - October 1999.
During this period, 297 primary total hip replacements and 77 Birmingham Hip Resurfacings were performed.
This shows that the performance of a Birmingham Hip Resurfacing saves the NHS on average 2.6 bed days per patient compared to total hip replacement.

Return to Work and Sport
206 patients from one of the authors surgical practice were surveyed in order to determine their return to work and return to sport status. Of these 206 patients, 27 had bilateral procedures, the rest unilateral giving a total of 233 resurfacing arthroplasties.
The mean age of these patients was 52.7 yrs. (25-67 yrs.). These patients were all in paid employment prior to the development of their hip arthritis.
All 206 patients returned to work. The mean time of return to work was 7.1 wks. (1- 78 wks.). The mean return to work time was rather skewed by one patient taking 78 weeks to return to work but he was a professional squash player.
These patients were all asked if they engaged in physical activities or sport and of the 206 patients, 169 engaged in physical activity that is gym or sport.
The authors were so surprised at the high percentage of these patients engaged in various activities that the list of sporting activities undertaken by these patients is included for interest.
Activities in 206 Resurfacing Patients Surveyed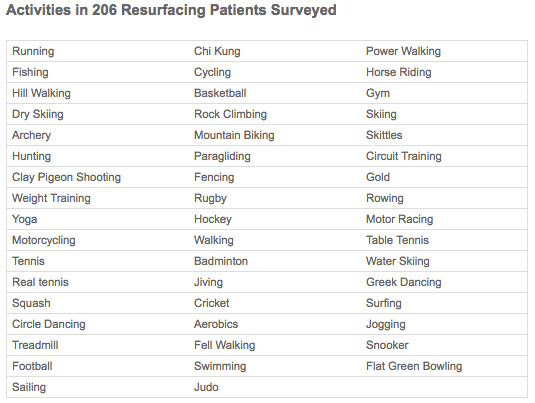 Thrombo-Embolism
Hoffman from Vienna has investigated intra-operatively the pressurisation in the femur during a conventional cemented stem total hip replacement and the pressure in the distal femur rises to 1400rnrn Hg during insertion of the cemented femoral component.47 This is equivalent to car tire pressure and this pressure drives fat and marrow from the femur in to the systemic circulation, right heart and pulmonary vasculature. This fat and marrow displacement with total hip replacement rarely causes acute haemodynarnic upset but the fat and marrow are rich in tissue thromboplastin and are potent activators of the coagulation system. It is probable that this fat and marrow displacement at conventional stemmed total hip replacement is responsible for the very high post-operative thrombo-ernbolic complication rate. It has been shown that whether an uncemented femoral component or a cemented femoral component is inserted, when the canal of the femur is instrumented then activation of the clotting cascade occurd.48,49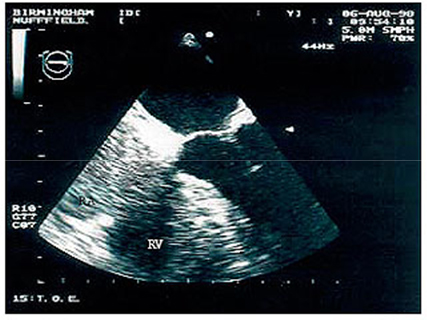 Trans-oesophageal echocardiography
showing MAJOR fat embolisation into right heart following THR
During the procedure of hip resurfacing the canal of the femur is not instrumented. Furthermore it is easy to insert a cannula through the lesser trochanter into the upper femur thus minimizing the femoral canal pressure during femoral component insertion.
Markedly reduced amounts of fat and marrow are seen on trans-oesophageal echocardiography after resurfacing compared to conventional stem total hip replacement. Remarkably few thrombo-embolic complications are seen following hip resurfacing and review of patient records from the authors last 560 resurfacings has shown only one patient who developed a clinical calf vein thrombosis. No patients were readmitted with pulmonary embolism or venous thrombosis. This aspect of thrombo-embolic complications is being further investigated by comparing the coagulation changes following total hip replacement and hip resurfacing using thromboelastograph, prothrombin F1 and F2, thrombin anti-thrombin complex, D dimers and tissue factor assays.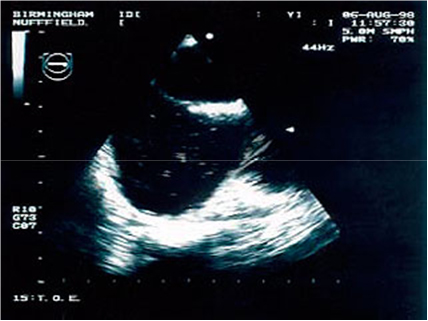 Trans-oesophageal echocardiography
showing MINOR fat embolisation into right heart following THR
© 2007 Smith & Nephew