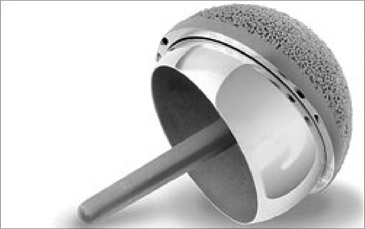 The BIRMINGHAM HIP Resurfacing implant is not brand new. It has been in use around the world since 1997 and has since been implanted more than 70,000 times. It is newer to the United States, having been approved for use by the U.S. Food & Drug Administration in 2006.
Although hip resurfacing is not a new concept, the technology behind the ground-breaking BIRMINGHAM HIP was developed by British orthopedic surgeons Mr. Derek McMinn and Mr. Ronan Treacy. The two surgeons now train orthopedists from around the globe on behalf of London-based medical device manufacturer Smith & Nephew. U.S. surgeons given access to this implant may travel to England for specialized training or may train at one of the few U.S. centers capable of hosting these focused sessions.
Patient Benefits
The benefits to patients of the BIRMINGHAM HIP Resurfacing technique and implant are clear. The implant's head size, its bearing surfaces, and its bone-sparing technique make it a preferred choice for young, active patients. While the implant's rate of survivorship is comparable to standard total hip replacements after five years, these three key advantages set the resurfacing technique and implant apart from its total hip replacement counterparts.
Head Size
The most noticeable aspect of this implant is its size. While it closely matches the size of your natural femoral head, it is substantially larger than the femoral head of a total hip replacement. This increased size translates to greater stability in your new joint, and it decreases the chance of dislocation of your implant after surgery.
Dislocation is a leading cause of implant failure in total hip replacement. While total hip implants dislocate at a rate of one to three percent over the lifetime of the implant, a study of 2,385 BIRMINGHAM HIP Resurfacing patients found that dislocation occurred in only 0.3% of cases five years after surgery.
Bearing Surfaces
BIRMINGHAM HIP Resurfacing takes advantage of one of the orthopedic medical industry's most technologically advanced bearing surfaces. That means that the surfaces of the ball and the socket are made from materials that dramatically reduce joint wear when compared to traditional hip implant materials.
In this case, both the ball and socket are made from tough, smooth cobalt chrome metal. Traditionally, only the ball is made from cobalt chrome, and the socket is lined with a plastic cup. While this plastic cup has some design advantages, it does wear out over the course of many years since it rubs against the metal ball at a rate of nearly two million footsteps per year in physically active adults.
The plastic particles released into the area around the joint as a result of this plastic wear can lead to a condition called osteolysis, which causes the bone around the implant to soften, become unstable, and ultimately a corrective surgery and new implant are required.
However, when both surfaces of a hip implant are made from cobalt chrome, wear particles are reduced by 97%, thus potentially extending the life of the implant.
There may be risks associated with metal-on-metal hip implants, though. While no evidence has been established on the subject, some are concerned that the increased level of metal ions found in the blood of metal-on-metal hip recipients may have negative effects on the human body. For this reason, some surgeons may not implant such a device in a patient with kidney disease (since healthy kidneys filter ions from your body) or in women who are or may become pregnant.
Bone Conservation
Perhaps the greatest benefit of the BIRMINGHAM HIP Resurfacing implant is the fact that it conserves substantially more bone than a total hip replacement. This is important for two key reasons.
First, unlike a total hip replacement, the BIRMINGHAM HIP Resurfacing preserves your natural femoral neck. It is this neck length and angle that determines the natural length of your leg, and since it is not removed and replaced with an artificial device during a resurfacing procedure, concerns regarding leg length discrepancy are virtually nonexistent.
Second, if your surgeon should determine you need to have your BIRMINGHAM HIP implant replaced at some point in the future, you may undergo a regular total hip replacement surgery. If you had originally undergone total hip replacement instead of hip resurfacing, you would be dealing with a more traumatic and complex procedure and you would be receiving a more invasive implant.
FREE DEMO DAY! | Dr. Lynn Voss is hosting a free demo day on Friday, December 15, for any BoulderCentre for Orthopedics & Spine patient who is interested in learning more about e-stim.
x