Flip Flops are great summer shoes, but can lead to unexpected foot problems.
Once upon a time, flip-flops were cheap, rubber thongs that you wore to wash your car or schlep to the beach.
Nowadays, they're a summertime craze. No longer just dull drugstore specials, the sandals with the V-shaped straps turn up everywhere in eye-popping shades, from hot pink to lime green. They come adorned with spangles, flowers, and college logos. One company even created flip-flops with a built-in bottle opener.
Fun and fashionable, flip-flops have their place in your shoe closet, experts say. But they're not meant to be worn with abandon — or else you may be courting foot pain.
Flip-Flops: Good and Bad
Jackie Hartnett, a young Northern California woman, owns five pairs, including some with a Hawaiian motif and a black pair with polka dots. Come rain or shine, she wears flip-flops. "They're really comfortable. I don't like shoes because they're so confining," she says. Her boyfriend accidentally steps on her toes, but to Hartnett, that's a small price to pay for the breezy feel of flip-flops.
"Flip-flops and sandals during the summer are very common and very popular," says John G. Anderson, MD, a Michigan orthopaedic surgeon and American Orthopaedic Foot and Ankle Society spokesman.
What's their best purpose? "Flip-flops give you some basic protection to the bottom of your foot to walk around poolside or on a surface that may be warm during the summer," says Jim Christina, DPM, director of scientific affairs for the American Podiatric Medical Association.
They can also help prevent you from catching athlete's foot or plantar warts in public showers, according to foot specialists.
In contrast, it's a bad idea to play sports or hike trails in flip-flops, foot pain experts tell WebMD. Here's a quick primer on flip-flop safety.

No Foot Support Leads to Foot Pain
Unlike sturdy shoes, flip-flops aren't good for extensive walking because they offer no arch support, heel cushioning, or shock absorption, according to the American Podiatric Medical Association (APMA). Wearers can suffer foot pain due to lack of arch support, tendinitis, and even sprained ankles if they trip.
Many vacationers find out the hard way. They can't wait to toss aside their wingtips or pumps to lounge in flip-flops all day long. But after a few days, some want to hurl the sandals into the garbage bin.
Why? "They let your foot be as flat as they can be," Christina says. "For some people, that's OK, depending on the structure of their foot. But if you have a foot that tends to over-flatten, then you're not getting any support.
"If [vacationers] are at the beach or Disney World and they're walking in flip-flops for days on end with no support, it's very common to see arch and heel pain," he says.
Don't overdo the flip-flops at home, either, Christina says. "Everything in moderation. As long as you're not doing a lot of walking, it's probably OK." For example, "To have flip-flops on for short periods of time to do errands, that's usually not going to be a problem."
If you have foot pain and need an alternative to flip-flops and their flimsy support, the APMA's web site recommends sandals from companies, such as Wolky, Chaco, Dansko and Rockport.
Beware of Foot Injury
Because flip-flops offer little protection, you're at greater risk for stubbed toes, glass cuts, puncture wounds, or having a heavy object smash your foot, experts say.
"I am well aware of the potential downsides of these shoes," says Bret A. Nicks, MD, a Wake Forest University emergency physician. "It is fairly frequently that we see someone come in with either a broken toe or torn nail bed from direct blunt trauma to the exposed toes."
For people with diabetes, any foot injury can become serious, even leading to amputation. Flip-flops and sandals aren't a good option, Christina says. "They really need the protective function of something that covers their toes. I'd much rather see them in Crocs or something that has a covering on top." Crocs are lightweight, waterproof, clog-like shoes.
Flip-Flops and Backyard Football
Don't run or play sports in flip-flops, Anderson says. Instead, always wear proper sports shoes.
The orthopaedic surgeon has treated people who ran or jumped in flip-flops and suffered sprained ankles, fractures, and severe ligament injuries that required surgery.
"They're meant for walking on flat surfaces," he says of flip-flops. "They're not meant for playing Frisbee or backyard football or a soccer game. They don't really offer you the support that an athletic shoe would offer you.
"Unsupported feet take a lot more stress than supported feet," he adds. "If you try to use your flip-flop as an athletic shoe, you're asking for trouble."
Snakes in the Grass
Some people wear flip-flops to do yard work, which in rare cases can prompt a trip to the emergency room for injuries from outdoor equipment.
"Inevitably, throughout the course of the summer, we will see a handful of patients with minor to severe foot or toe injuries from lawn mowers, weed eaters, shovels, and aerators," Nicks says. Podiatrist Christina has even seen people accidentally scrape the skin on their feet with power washers.
Another danger: insect and snake bites. Emergency room physicians on both sides of the country report seeing adults and children with snake bites to the feet while wearing flip-flops or sandals.
In North Carolina, Nicks warns against wearing flip-flops or sandals when hiking in areas that copperheads inhabit.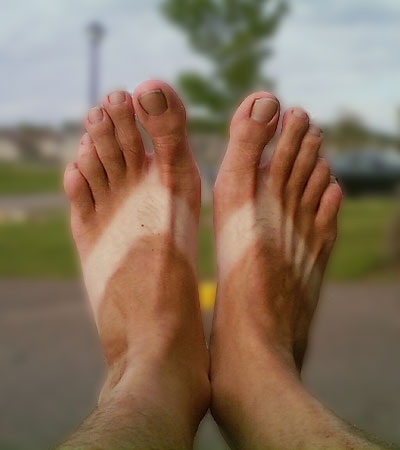 In Southern California, Sean P. Bush, MD, FACEP, has treated several children for rattlesnake bites. The creatures can enter residential yards when urban sprawl pushes up against wilderness, he says. Bush is a venom expert and professor of emergency medicine at Loma Linda University School of Medicine.
If snakes pose a problem in your region, denim pants and close-toed shoes or boots offer better protection, he says.
Driving Hazard
Flip-flops can impair a driver's control if they come off the foot and lodge under the brake or gas pedal, according to Bill Van Tassel, PhD, the American Automobile Association's manager of driver training operations. "Whatever you wear on your feet, make sure it's not so loose that it pops off and interferes with the pedals," he says.
Wear Sunscreen
One last bit of expert advice. If you flip-flop your way through lazy summer days, don't forget: your exposed feet need sunscreen, too.
Otherwise, you could be sporting sunburned tootsies with your sequined flip-flops — bad for your skin and a disastrous fashion statement, too.
BoulderCentre can help. Call us (303) 449-2730 and ask to see one of our foot and ankle specialists.
Article courtesy of WebMD.com.