Fellowship:
Neurosurgery and Orthopedic Spine Surgery
Dr. Benjamin Bjerke is fellowship-trained in neurosurgery and orthopedic spine surgery and specializes in surgical procedures of the cervical spine as well as minimally invasive lumbar procedures. Dr. Bjerke has extensive training in advanced spine procedures and techniques from the world-renowned Mayo Clinic and serves as a team physician for the US Ski Team. He is dedicated to providing his patients with compassionate, expert spine care.
Specialty
All spine-related NEUROSURGERY and ORTHOPEDIC SPINE SURGERY conditions treated:
Cervical spine: neck and arm pain
Lumbar spine: back and leg pain
Compression fractures
Degenerative disc disease
Herniated discs
Scoliosis
Spinal stenosis
Spondylosis/spondylolisthesis
All other surgical conditions affecting the spine
Dr. Bjerke applies a conservative first approach to his patients and only offers surgical intervention with proven, evidence-based techniques when necessary. This means providing the most minimally invasive and safest procedures for each patient. Dr. Bjerke is proficient with the most modern advancements in total spine care, including minimally invasive surgical (MIS) techniques, computer-aided navigation, and motion-preserving operations.
Education
Bachelor of Science in Chemistry: University of Wisconsin, Madison, WI
Master's Degree: UCLA Department of Chemistry & Biochemistry, Los Angeles, CA
Doctor of Medicine: Columbia University Vagelos College of Physicians and Surgeons, New York, NY
Orthopedic Surgery Residency: Hospital for Special Surgery, Cornell University, New York, NY
Combined Neurosurgery and Orthopedic Spine Surgery Fellowship: Mayo Clinic, Rochester, MN
Distinctions and Recognition
American Academy of Orthopaedic Surgeons
AOSpine
Hospital for Special Surgery Alumni Association
Mayo Clinic Alumni Association
North American Spine Society
Reviewer, HSS Journal
Reviewer, The Bone & Joint Journal
Society of Lateral Access Surgery
Dr. Bjerke is a reviewer for HHS Journal as well as The Bone & Joint Journal, and he has authored several publications in many peer-reviewed journals, including Spine and The Spine Journal. He has presented his research at over 30 national and international meetings. His particular research interests include post-surgical spinal infections and osteopenia/osteoporosis, and he has used this knowledge to better treat his own patients with low bone density and to help them avoid infection after surgery.
Dr. Bjerke has completed three surgical missions as a volunteer surgeon with FOCOS Orthopaedic Hospital in Ghana, Africa. To learn more about his mission work, go to http://bit.ly/bjerkewithfocos.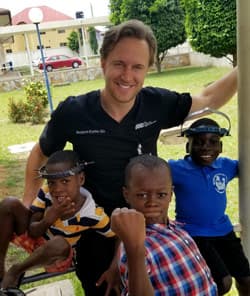 Interests
Dr. Bjerke is committed to providing excellent care for bilingual patients and speaks fluent, professional Spanish. He has operated in Ghana, West Africa, as a volunteer surgeon on three surgical missions to treat severe spinal diseases. Dr. Bjerke also serves as team physician for the U.S. Freestyle Ski Team.
In his free time, Dr. Bjerke likes cycling, doing triathlons, rock climbing, and skiing. He enjoys his active lifestyle and spending time with his family, and therefore, he understands the importance that his patients place on getting back to spending time with their own families and doing the things they love.
Get to know Dr. Benjamin Bjerke, our newest spine surgeon!